Bringing financial health and credit score insights to your IRIS Elements practice management
New launch: Credit scores and alerts in IRIS Elements
Accounting firms using IRIS Elements for their practice management, accounts prep and tax filing can now enable Capitalise insights within their client list.
This means your team can get an immediate view on important financial health metrics for their clients straight from the client view. No more tab switching or platforms - the insight is right there in the single client view on the IRIS Elements cloud platform.
Check out the credit score insights on the client dashboard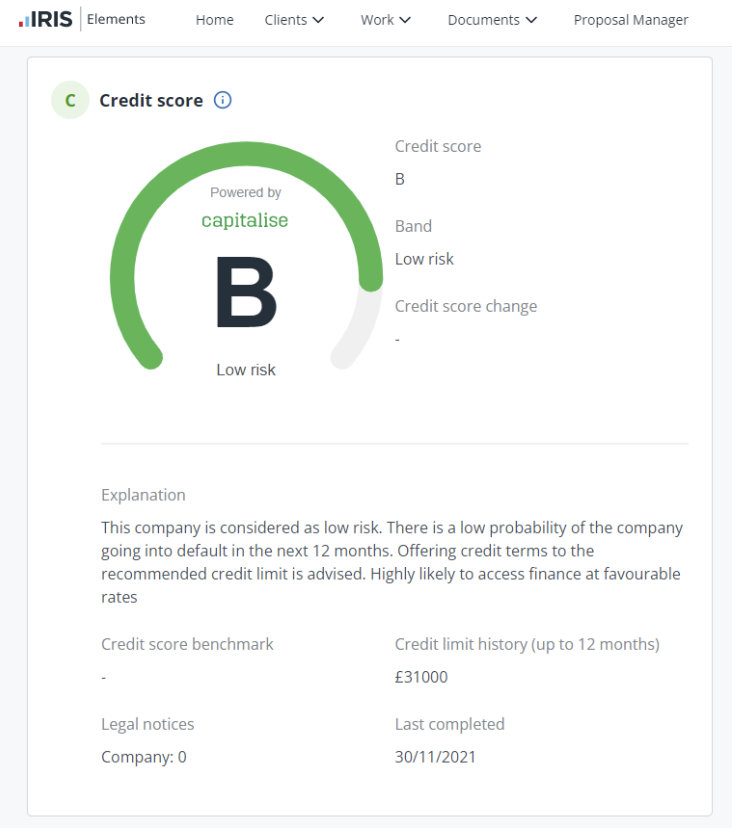 Going the next step:
The insights on IRIS Elements gives early warning signs, a view of client portfolio risks and an indicative eligibility for funding. From their accounting firms wishing to get deeper insights, to do a credit review or to fund clients, they can get set-up on Capitalise.
"IRIS Elements has been great to integrate with as it's designed to bring a wealth of client data together into a single place and puts accountants on the front foot with their clients. We're excited to add value with financial health insights leading to better transparency on credit risk and funding opportunities for their clients"

Ollie Maitland, Co-Founder & Chief Product Officer of Capitalise.com
If you're interested to know more about how IRIS Elements and Capitalise work together check out the Iris Elements help documentation on help.iris.co.uk
Alternatively, book in a consultation to see how the two platforms can work together.
​​​​​​