Accountex London is the biggest annual conference for the UK accounting industry. So when the doors opened on 1-2 May 2019 at ExCeL London, the Capitalisers were proud to put on the green tees, break out the promotional swag and meet some of the UK's leading accountants.
We say 'Long live the accountant!' as we usher in the next age of accounting.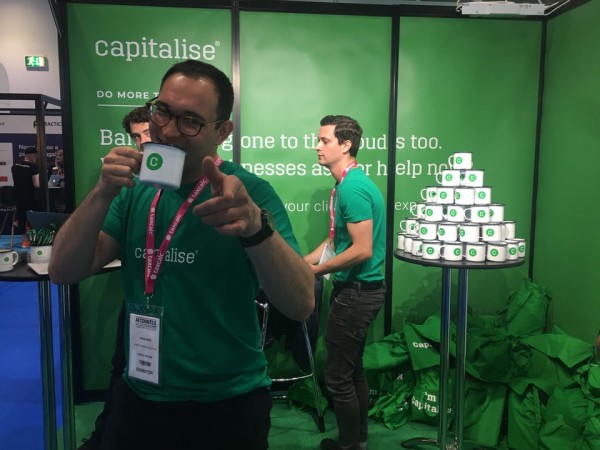 Making the accountant's job easier
In previous years, it felt like there were still a few 'cloud sceptics' out there among the Accountex attendees, still unconvinced of the benefits of becoming an online practice. But with MTD for VAT now with us, and the vast majority of firms now carrying out their work in the digital space, there's a far more positive outlook.
Firms now have access to a huge range of time-saving apps and solutions, making the whole accounting process far easier to manage:
No more time wasted on data entry – apps like

AutoEntry

,

Receipt Bank

and

Expensify

make it easier for clients to enter their own receipts, invoices and expenses into your chosen cloud accounting platform – freeing up time for your team.

Easier ways to pay and get paid – with payment solutions like

GoCardless

and

Modulr

making it easier to get paid, and tools like

APtimise

taking care of the accounts payable tasks, there's less financial admin to weigh you down.

Better practice management tools – an online practice needs to be organised, and with

Practice Ignition

,

Karbon

and

Accountancy Manager

, there's a growing choice of productivity tools to pick from.
Software has changed the landscape, giving firms a choice around how to utilise these efficiencies, as accounting adviser, Della Hudson, outlined during our Capitalise panel session.
Technology is changing what we do as an accountant. You can either just do compliance, but do it better, faster and more cheaply. Or you can use those same resources, and use the data and reporting generated as the basis for your advisory services with clients.
Putting data at the centre of the client relationship
Business clients' expectations are changing fast. Owners, finance directors and management teams want greater insight and more detailed information from their accountant – and this is where the use of data has become key.
As our CEO, Paul Surtees, highlighted in our panel session, with the high-street banks no longer supporting your SMB clients, there's an opportunity to step into the bank manager's shoes.
Whereas the banks traditionally had clients' transactional data, you have bookkeeping data, invoicing data and information on everything that your client uses. So there's an opportunity for you to deliver a much higher level of service when it comes to financial advice.
Having such wide-ranging data at your fingertips means:
More real-time client data to analyse – with VAT-registered businesses all now MTD-compliant, your firm has access to a wealth of up-to-date business and financial data relating to clients' day-to-day business and historic trading.

A better view of performance and financial health – client's real-time data can be pulled through into an ever-growing choice of reporting, business intelligence and forecasting apps, including

Futrli

,

Spotlight Reporting

,

Fluidly

,

Float

and

Fathom

.

More opportunity to spot those funding needs – with such detailed forecasts around sales, cashflow and future income, it's far easier to spot the funding opportunities, whether that's growth finance, asset finance or working capital.



Helping clients look to the future
With so much information now readily available, your firm has a significantly increased ability to predict the future path of your clients' businesses. And by using forecasting, projections and scenario-planning, you can spot the threats and opportunities well before they happen.
As BDO's Anoop Rehal pointed out during our panel, the combination of great client relationships and access to detailed real-time data is central to giving good advice:
With real-time data, we can do a lot more for our clients. It enables us to look at the numbers and see that you have a funding problem in the future, and do something about it. So you can be proactive rather than reactive when it comes to advice.
For many firms, this forward-looking 'advisory sweet spot' is the real focus in 2019. And, at Capitalise, we believe a forward-looking approach offers great value for firms and clients alike:
Greater support and more advice – with the business bank manager as good as dead in 2019, there's a golden opportunity for you – the valued accountant – to become your clients' go-to adviser when it comes to all matters financial.

The ability to plan out future strategies – by pulling together business performance metrics, future forecasts and your own professional experience in the industry, firms have a greatly increased ability to help clients plan and make meaningful decisions.

The ability to grow alongside your clients – when clients trust your insight and judgement, they'll stick with your firm for the long run. And, for us, that's the key message: Listen, advise and support, and your clients will grow with you.
A new chapter in the accounting story
Wecame away from Accountex with a renewed sense of positivity. For firms that aim to do more for clients, there's a genuine opportunity to grasp, as Paul Surtees summarised:
As accountants, you're regulated, you're financially literate, and you're relationship-based and not transactionally minded. So who better to speak to your clients about funding, forecasting and financial services?
Whether your firm chooses to focus on excellence in compliance or wade into the waters of advisory services, we think the future of accounting looks bright. Long live the accountant!
Find out more about becoming a Capitalise partner