Introduction to credit scores
Business credit scores range from 0-100 where 0 is the highest risk and 100 is the least risk.
Credit scores are used by third parties such as suppliers and lenders to assess the risk and creditworthiness of a business. Limited companies and LLPs have a business credit score based on the companies financial and non-financial data. Sole traders and unincorporated partnerships have a score based on their personal (or consumer) credit score.
There are various companies who calculate credit scores based on a range of factors and the algorithms which each company determines. Experian is the prime bureau in the UK used by the major lenders and companies.
Experian's credit scores, also known as Delphi scores, are grouped into bands from A-G.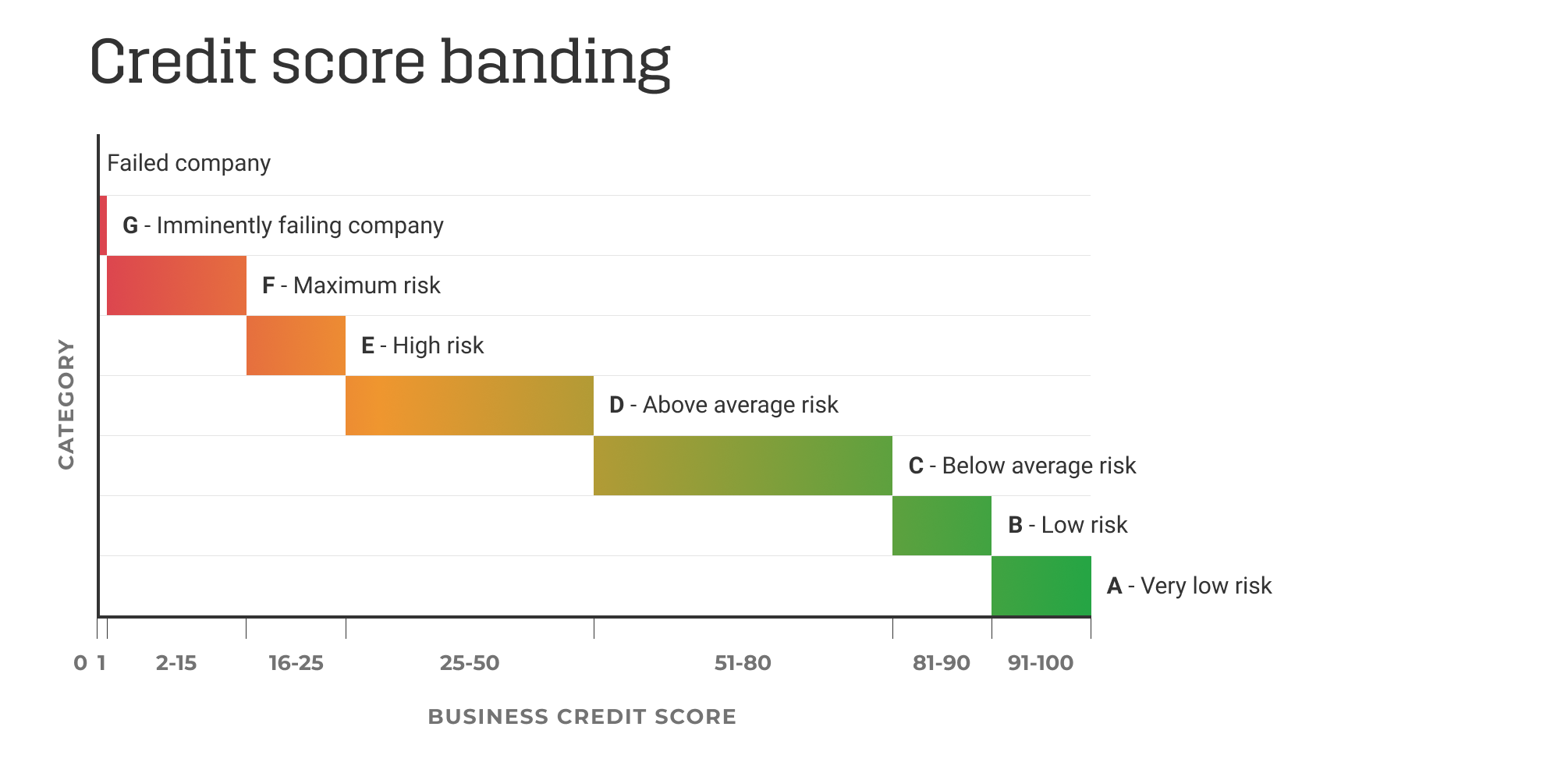 Why are credit scores important?
A credit score of between 25 and 50 is a wide band. It is also known as a "D" credit score. If you have a D credit scores, you will find that:
As the lending market has tightened, for most banks and lenders, you will not reach their credit hurdle to be able to access their products. Therefore you will be reliant upon sending propositions to a much smaller number of specialist lenders, who will charge higher interest rates.
You will probably not be able to obtain any supplier credit especially from those who use trade indemnity cover to insure their debtor book. You will be expected to pay on proforma or at order, reducing access to working capital to fund your company. Other smaller suppliers may still offer you credit, but it will not be a significant value if they credit check their customers
Your profile will be seen as poor to potential customers, joint venture partners, new senior recruits or purchasers of your business when you are ready to exit. To gain an improved profile, you should look to increase your credit score.
How to focus on your credit score

Only 29% of business owners know their own credit score and those who track it, are 6 times more likely to be in the "A" range.
If you were to achieve a higher credit score, you would be able to access more lenders and receive better terms. Plus suppliers will offer you improved credit terms giving you access to more working capital.
There are almost 100 different factors which affect your business credit score, such as your financial results, your filings at Companies House, your payment performance as reported by your larger suppliers and the searches which others conduct on your company.
Using Capitalise for Business you are able to monitor your credit score and those of your customers and suppliers. You can regularly receive prompts and insights as to what will improve your credit score and then you can take action to do so.