We are thrilled to have been shortlisted as one of the 2018 Cloud Apps of the Year in the Accounting Excellence Awards. We are incredibly honoured and excited at the chance to share with more accountants, how by working with Capitalise, their SME clients can obtain fair funding solutions from top lenders across the UK.
.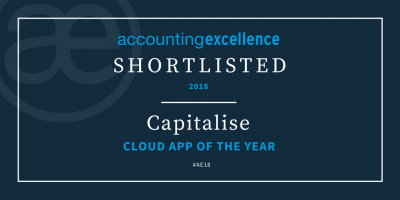 We know funding isn't often perceived as a new fancy innovation - but we also know the happiness which comes from business owners, when they are able to grow their firms due to successful funding. In the words of Richard Francis, Founder of Spotlight Reporting:
"Growth can mean many things- revenue, business size or more time with family."
It isn't surprising that so many of our amazing accounting Capitalisers have also been recognised in this prestigious event. We want to send a huge congratulations to:
The UK lending landscape is a complex and confusing beast. We have created a free Business Finance Guide which includes information on the process of getting business finance, as well as, the different finance options that are available to SMEs. To download your copy, click here.