The new market for alternative lending has brought financing for SME's into the modern era, but don't let the speed and ease trick you about your legal obligations. Capitalise can help you manage your legal obligations by ensuring your client is made aware which lenders have received their data, as well as making clear how and when commission will be paid should they continue. You've almost certainly encountered a GDPR consent sign-off recently, but do you really know what you need to be disclosing to your client when helping them source finance?
Capitalise is ready and waiting to support you
In a world where accountants are fast becoming the go-to advisers for SME businesses, ensuring that you control the interaction and process is important. At Capitalise we want to support you in growing your Capital Advisory services (these are services that help clients grow, recover and protect their capital) and we're bringing you a new way to manage your client's experience. As an added benefit, letting us help you manage the process improves the chances of getting an offer to over 90%!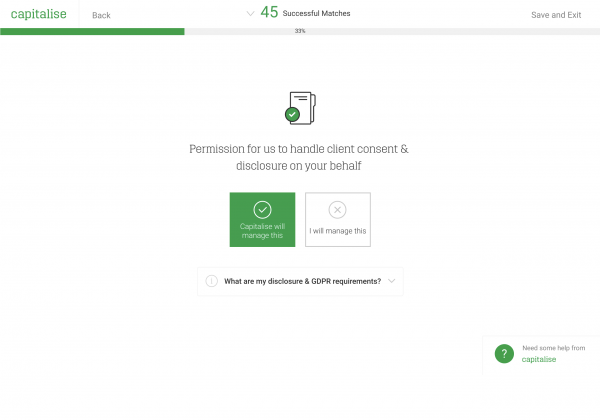 Let Capitalise manage the process for a more successful search