What small businesses want from their accountant has evolved. Business owners and their management teams want advice on their financial performance, strategic direction and deep insights from a valued partner – and this means offering solid accounting support, combined with the added value of forecasting and funding advice.
We sat down with Paul Miller, founder and Managing Director of Cornish Accounting Solutions, to find out how he's used forecasting and funding to help his clients do more.
The Cornish Accounting approach to advisory
Paul Miller may be an experienced hand in the world of accounting, but he's also bursting with new ideas when it comes to adding value for his small business clients.
Paul has seen the accounting industry go through myriad changes during his 30+ year career, and he's a huge advocate for new advances in technology – with the caveat that tech must be combined with the right human skills and empathy, as he explains:
"What technology has done is make it easier to set up in practice as an accountant. But to be ready for advisory, you also need to do the years of service on the compliance work, to build a reputation, the empathy and the rapport with clients, so they trust you to advise them."
The firm is built around the foundations of cloud accounting, integrated business apps and a digital approach to business advice. But everything is driven by Paul's deeply personal and relationship-driven outlook on how he works with his clients.
Looking forward with funding and forecasting
As a Xero partner, Paul's used to producing detailed management information for clients. But he believes that adding detailed forecasting tools, and the ability to offer insightful funding advice is the icing on the cake when it comes to the firm's appeal to clients.
"Xero can produce management information – that's taken as read. But some people find the information is easier to understand with colours, graphs and pie charts, and that's what reporting apps like Spotlight Reporting and Futrli do, by visualising that data into clear dashboards."
"The last piece in the jigsaw is talking to businesses, looking at their past and future figures. That allows us to spot any funding gaps. Most clients have growing pains, and as they're growing they'll always be short of cash. And Capitalise is the final piece in the jigsaw. It enables you to advise and offer suggestions around how we, as advisers, could help the business owners take their company in whatever direction they want."
"So it's not about last-minute financial planning, it's about looking forward. My car has 5 forward gears but only one reverse gear, because I need to look forward more than I do backwards."
Signposting the best funding solutions
Paul's ideology is all about helping his clients do more, and working with them to achieve their goals. So, how does access to finance and additional funding fit into this?
"When it comes to the wider world of funding, we act as a sign post. We'll say that these different finance options are available and point clients towards them."
"The typical opportunities will be working capital. It used to be that the bank manager was looking after your business, but the bank manager is almost a thing of the past now. So we'll use Capitalise to get clients funding solutions. When the big banks aren't prepared to help, that means looking at other opportunities."
"Typically, most businesses will take a lump sum out of their overdraft or current account to buy an asset – which we all know is the wrong thing to do. What we do is educate people around spreading the cost of that asset so it matches their current cashflow – so you rely on future revenue to pay for it, rather than historic revenue."
Funding as a key element of the advisory toolbox
For Paul, having the right combination of real-world experience, client empathy and effective software tools is all part of the Cornish Accounting advisory mix.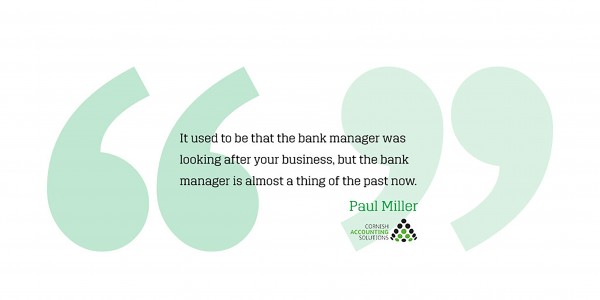 "What we're now seeing is that there's a sort of 'advisory toolbox', of which Capitalise is now becoming a fundamental part. We need those tools to get clients to the next rung on the ladder, but you pick up the appropriate advisory tool for the situation."
"Capitalise is almost the tray that holds the tools on the first level of that toolbox. It envelopes everything in that advisory space and everything can occur around it; that's the tools, the apps and the forecasting solutions. But you need something to fine tune it, to say 'As you're going to run out of money on this date, we need to look at additional funding to help you avoid that'."
Helping clients achieve their own goals
To grow a business, you obviously need a business plan, clear forecasts and information to track performance. But you also need the liquid cash and financing to fund this plan, and the right advice around how and when to source this cash, as Paul explains:
"I see Capitalise as being part of a caring community of cloud providers. With the right access to funding, I can help you to do what you want to do. I can make sure your business has a future which is successful – and that's your definition of success, not mine. It might be working less hours, having bigger offices, or having a £5M turnover."
"And I see us as an adviser, using the forecasting, funding advice and management accounting tools, to help you achieve your goal. The door's open and that room can be whatever you want."
Find out more about funding and forecasting
If you'd like to add flexible funding searches to your advisory toolbox, Capitalise is here to help. We'll help you fast-forward to the future of adviser-led funding.