Helping clients to plan out the future path of their finances and business journey, is a core expectation of any modern accountant. And with enhanced access to funding added into the equation, your accountancy firm can become the go-to adviser for all things financial.
In this series, we've seen how funding and forecasting can be put at the heart of your advisory services, and the important role this plays in helping your clients achieve their full potential. But modern fintech solutions and business intelligence tools also help you to offer a broader and more bespoke professional relationship with your business clients.
We chatted to Chris Gascoyne, owner at Acumist Executive Coaching and Accountants, to see how offering funding and forecasting advice has boosted his professional capabilities.
A totally bespoke kind of coaching
As a long-term Xero user, Chris is a classic example of a sole practitioner who's used the power and flexibility of cloud software to broaden out the scope of his work across a range of clients.
He's made a conscious decision not to focus on any specific niche sector or business type, choosing to offer a bespoke and personalised service across the full range of industries. His clients range from self-employed sole traders to larger limited companies and their directors. One-to-one coaching is where his true focus lies, as he explains:
"Whilst I do all the compliance stuff, my preferred route into companies is via a coaching role, to which end I'm a neuro-linguistic programming (NLP) trainer. I use NLP quite a lot in my coaching sessions. I use finance models and accounts as feedback to the client. By looking at the accounts, I can see how they're doing and they can see the impact of the changes we make."
Forecasting the future path of the business
Forecasting has been a tool in Chris's professional armoury since day one, with his underlying philosophy being 'a stitch in time saves nine' approach to financial management and accounting – where prevention of finance issues is a far better option than cure.
"The advantage of forecasting is that you can see the impact of a decision that you're about to make, rather than mopping up the mess from one you've already made. To that end I've been using Futrli, Spotlight Reporting and Float to get that future view and look at different scenarios."
"Increasingly, clients are seeing the value in forecasting. The ability I have to shove data between various applications means clients are now asking more questions. Rather than just working off historical data and forecasting numbers from that, it's the what-if scenarios that people are coming to me for now. So it's questions like 'can I can afford to take on this new client?' or 'can I afford to take on a new product development manager?' that people are most interested in. It's a good opportunity to expand where I can help a client and to have some different tools to help me with what I do."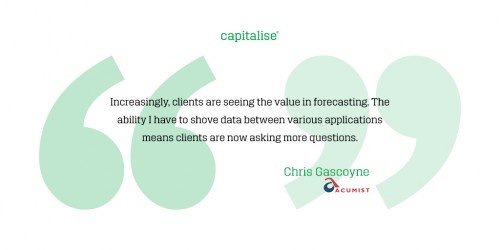 Spotting the funding needs early
Having the right level of financing and working capital in the business is key to a client's future success. And, as Chris explains, these funding needs tend to fall into two camps.
"I'd put the common funding needs into two categories. One is the panic 'Oh no, we've got a giant tax bill! What are we going to do about it!?' needs. And the other is a planned purchase, where, in the past, the client may have gone to their bank for funding and where, these days, they're looking at alternatives because they realise other funding routes are out there."
"It was a client need that started me off in offering funding advice and first got me talking to Capitalise. In the past, I'd go along to the bank with a client in hand and the whole process would take a month or so to even get off the ground. But Capitalise has turned that around now – they've given me access to funding providers, added something to my skill base and what I can offer to clients, all in a very different way to the old approach."
How Capitalise increases your advisory capabilities
Combining Capitalise's funding capabilities with the benefits of cloud accounting and real-time management information and forecasting has helped Chris to expand his coaching services.
"Capitalise has given clients the perception of an additional level of professionalism. I can help them out in a very efficient and professional manner, specifically for funding problems. But it's also added to an overall impression of the size of the practice and the different services I offer."
"The relationship with Capitalise is very good – and it's seamless. I had one client who came to me at about three o'clock on a Thursday afternoon looking for urgent funding, and by Friday he'd got the money in his bank account. I could never offer that in the past. So it's definitely given an elevated perception of my ability and resources."
"And, by using Xero and my choice of forecasting tools, I can talk knowledgeably about how their businesses might perform in the future, based on past events, based on what-if scenarios, etc. It's something that clients do sit up and listen to, because everybody wants to know how their business is going to progress – and what will happen if they do things in a certain way."
Find out more about funding and forecasting
If you'd like to add flexible funding searches to your advisory toolbox, Capitalise is here to help. We'll help you fast-forward to the future of adviser-led funding.
Want to learn more about how Capitalise can help boost your business potential? Book a demo and we'll walk you through it.