Not all clients are created equal. Every business or person that may require your services has different goals, circumstances and budgets. This means it is impossible to provide a 'one size fits all' service to every client. What you need, therefore, is to identify those who need your help the most.
Segmenting your clients with Monitor could help you do just that. With a large portfolio to service and little time to analyse each client, segmenting and filtering your clients could help you see who needs your attention faster and allow you to tailor your services to them.
Targeted segmentation and filtering
Once you understand who your target audience is, you can split your clients into different groups based on characteristics. Whether you want to segment your client portfolio based on the size of the business, sector or credit score, Monitor can help you narrow down those clients so you can start having tailored conversations.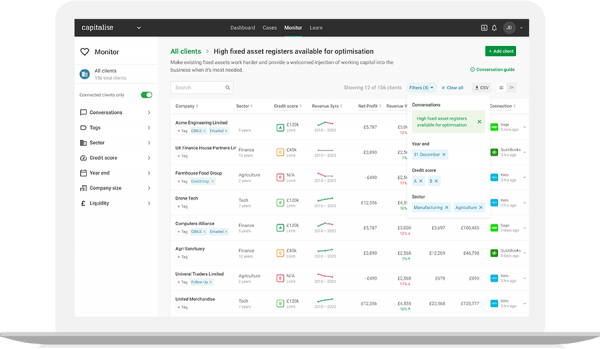 Insights and data
You are well positioned to play a significant role in organisational performance as creators, enablers, preservers and reporters of value for clients. So, having the insight into which clients have the need or appetite for capital can fast track conversations. Whether it be wanting to see their current credit score, profit or revenue, Monitor gives you the insights into the health of a client's business to help you predict future outcomes and better manage risks.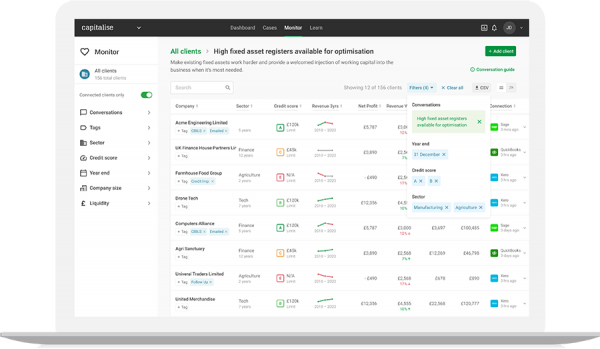 Managing and assigning responsibility
As with any busy firm, multiple clients may need seeing to at the same time. Keeping track of your clientele in your portfolio by assigning a Client Manager can help you improve productivity and improve efficiency as there is a clear understanding of who is responsible for managing which business. Easily track progress and streamline clients effortlessly with Monitors new feature to assign clients!
To learn more about Monitor, and the benefits it could bring you, why not book a free consultation with us today!