Faced with short days, a fresh lockdown and winter weather our product team doubled down on screen time and have reimagined our Capital Advisory platform.
We've brought funding, debt recovery, credit improvement, grants and R&D into a single, new case workflow. We've also taken the opportunity to refresh other key parts of the products to improve the workflow between the different parts of your Capital Advisory service.
Monitor: Even quicker, deeper portfolio reviews
Discovering Capital Advisory opportunities in your portfolio has proven to be an essential part of being proactive for your clients.
Now analysing your portfolio is a whizz without having to go into each client with our new, fast client preview. We've also moved around our navigation so you can access our 8 advisory conversations very easily.
Cases: Open and track all on the platform
One screen to access 10 different types of capital. Whether you're starting a funding search or looking to improve a credit score, you can track them all in a single place.
Dashboards: What's happening, across all capital types
Our new platform ties together Capital Advisory actions and need-to-knows into a new-look dashboard. See which clients need your attention and advisory conversations right from the homepage.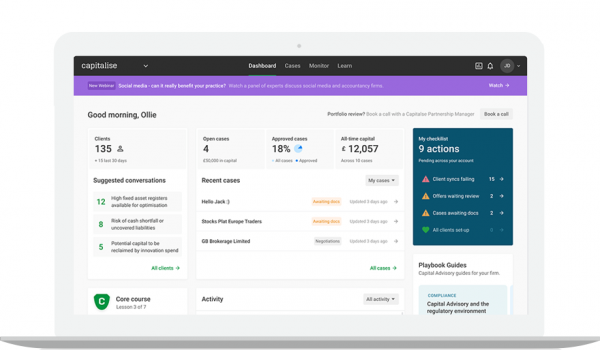 Capital Advisory, relaunched
We're proud to be focused on helping thousands of advisers to raise, recover and protect their clients' capital. Download our Capital Advisory guide for more information.
Book in a consultation with us, and we'll walk you through how Capitalise can help your clients access the capital needed to grow and expand their business. When you attend, we'll send you a Sony portable (and waterproof) speaker - perfect for those summer BBQs, even if there is a little rain.