Over the past six months, how we approach training for our accountants has changed - for the better! Phil Hobden, Head of Education at Capitalise explains more.
With whatever new thing we do in life - be it joining a gym for the first time, starting a new job or grappling with the latest bit of technology, there is an educational journey involved. It could be simple, such as reading a manual or watching an instructional YouTube video (it's incredible just how much you can learn online) or more detailed like facilitating workshops or guided online learning programmes.
Coming from the world of banking and finance it feels like I've completed more compliance-led online learning sessions than I can count – on everything from GDPR to Basel III, data handling to manual lifting (lift from the knees obviously). Yet, every single one was useful and worked both as a way to enhance my industry and market knowledge, while ensuring the business was always fully compliant.
Personal development is also critical for accountants and the accounting industry, which is why our education programme focuses beyond the product. It covers everything from the funding market and the different lending types (and when they're relevant) to how lenders and underwriters work and how the banking industry has changed over the past 15 years. We're proud to say our education programme is now CPD accredited with the CPD Certification Service to ensure that the education we offer contributes towards your continuing professional development.
Diving into the world of funding
When you choose to partner with Capitalise, you'll have a host of educational resources at your fingertips. We'll start you off with our Core Certification online course - designed to help you understand the basics of funding, how to approach your clients and get you set up to start your first funding search.
Working with the Capitalise Partnership Managers, you'll get an overview of the platform itself. They'll show you around the marketplace and how to submit a search. You'll then work alongside the Capitalise funding specialists and panel of lenders to ensure your clients have the most appropriate options to match their requirements.
Every new accounting firm will join one of our live CPD accredited education sessions - whether it be our Digital Partner Training for smaller firms or our Pro Launch Training for those building out larger funding teams. We aim to deepen your knowledge around funding and then support you in launching this out to your SME clients.
For those looking to dive even deeper, the Capitalise Adviser Certification takes you there. The course offers insights into lenders, how to proactively discuss funding with your clients and underwriting. You'll also get a closer, more in-depth look at the different types of funding that are available to support your clients.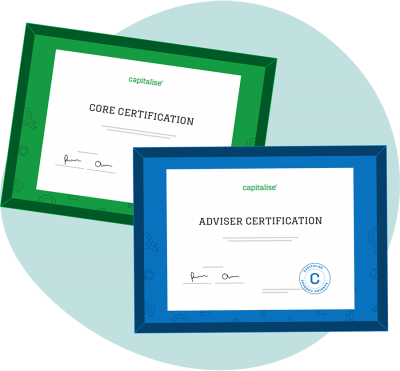 As you progress on your journey with Capitalise you'll move through our playbook (think of it as our tried and tested roll out plan), starting at foundation and graduating through to initial launch and beyond. During the initial launch phase, we host a Lunch and Learn session with your team, so everyone gets up to speed on your new service offering and, more importantly, sees the benefit in supporting your clients with funding and recovery.
Finally, our platform based Playbook hub hosts a library of resources (from cheat sheets to our funding enquiry questionnaire) to support you and your teams further as you engage with our platform - be it to raise, to recover or just to monitor your clients and their capital needs.
By putting education at the forefront of your Capitalise journey, our goal is to ensure you're in the best possible position to support your clients through the crisis and back to business health. After all, you are their most trusted financial adviser.
If you've got any questions about education at Capitalise or want to hear more about our CPD accrediation, get in touch with Phil.