Offering advice on funding is now a key expectation of a modern accountant. Ambitious business owners want to know how (and if) they can access the money needed to fund their future business plans, so it's your role – as their adviser – to offer the right funding advice.
In this series, we've seen how funding and forecasting now sits at the heart of advisory services, helping clients achieve their potential and allowing you to boost your firm's professional capabilities. And central to this evolution is how cloud technology has created a new breed of digital firms for whom funding advice is an integral part of their service offering.
We spoke to Alan Woods, founder and MD of Woods Squared, to see how being a digital practice has helped him scale up the firm's funding advisory services
Working with ambitious owner-managed businesses
Alan founded Woods Squared in Birkenhead back in 2007, with the aim of providing the best possible accounting and business advice to local owner-managed businesses. As a firm, they're a fully digital practice now and work with clients using several of the most popular cloud accounting platforms, including Xero and Capium.
Alan explains, their client base has been driven more by the outlook of the business owner than by any specific industry niche:
"We tend to be focused on the individual that owns and runs a business, rather than the business industry itself. So it's about working with ambitious, entrepreneurial business people and business owners, rather than in a particular sector."
"We do have some good client connections in retail, engineering and construction, but, in most cases, it's about what the business owners are looking to do. If there's an ambition to try and develop the business, we can provide the solutions for them to be able to achieve that."
An early specialism in funding advice
When the recession hit the UK in late 2008, this was a tough time for many of Woods Squared's new business clients. Many clients were in dire need of help with their cashflow, funding and fast access to additional finance, which presented a chance to add value.
"Our specialism in funding came about, initially, through helping clients navigate that challenging period of time during the recession. So, almost by default, we became experts in funding and knowing who the local brokers were and finance solutions."
"That lead to helping clients with their business plans and looking at financial forecasts. Over time it's evolved as a service, certainly with the likes of Capitalise on board."
Becoming a different kind of adviser
Being able to offer a broad range of advisory services, across the whole gamut of business solutions, is something that's central to Woods Squared's approach, and technology and digital solutions have been key to delivering this to clients, as Alan explains:
"With the technology that's now available, rather than just being seen as accountants, we can be seen as true advisers. So whatever area the client wants help with, we can facilitate by using cloud technology to collaborate with someone as a partner – like we do with Capitalise for funding side, or with Satago on the credit control side, or with Clarity for advisory.
"By becoming a 'business service provider,' we become a one-stop shop for clients – and that's a real opportunity for digital accountants over the coming years."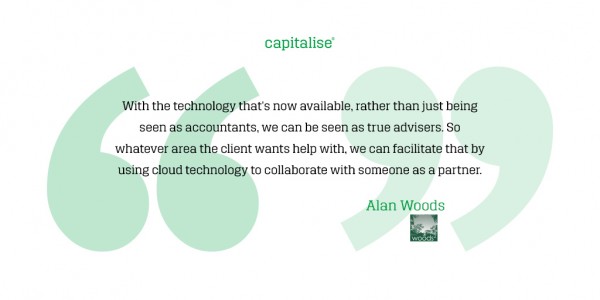 Taking the pain out of funding
Although Alan had created this niche specialism around funding, the actual process of locating potential funding was still a laborious and highly time-consuming affaire. He explained:
"The funding service that we were offering before was very manual. It was a case of speaking to every bank and funder, and sending over all the required information. That meant seven or eight emails or uploads to share all the relevant data with lenders."
"Whereas now, with the Capitalise platform, you share the information once and they provide a shortlist of potential funding providers. The Capitalise account managers are fantastic. They might get in touch to ask for additional information or to clarify bits of information that are needed for a particular fund, but it's all seamless."
Scaling up the funding advisory service
With much of the legwork taken out of the funding search process, the Woods Squared team have access to a far more effective approach when searching for potential funding providers. Alan believes this has been of huge benefit to the firm.
"What's really helped us is that Capitalise has made funding advice scalable for us as a practice. Rather than it just being me giving funding advice, and the fact that I knew the bank managers personally, now anyone in the team can have those conversations. Anyone in the team can identify a client's funding need, upload the information to the Capitalise platform and see if we can find a solution for the client, and help them with their particular funding issue."
Making funding pay for the practice
Funding advice is now a key offering for Woods Squared, and a capability that's helped to raise their profile as the go-to advisers in the local area when it comes to financing, funding and forecasting services. But is funding advice a profitable element of the firm's services?
"The fee that we charge out for funding advice will depend on what's required. If we're doing it via the Capitalise platform, we wouldn't necessarily charge a fee to our clients. We get a share of the commission from Capitalise if the client's funding is approved, so our fee, effectively, would be that commission share, if the deal does go through."
"If there's a requirement for a business plan, or for forecasting, then we would charge based on a percentage of the funding that's being secured – usually 7.5% plus VAT. If the client's already got a business plan and a forecast, and the funding is required for a specific business need, then we reduce that down to 5%. Again, that's on a success basis."
"By using a Capitalise search, we can also check the initial funding situation and ensure we're not doing work for no outcome. We can quickly see the likelihood of a funder providing the money the client needs."
Deepening the client relationship
Developing and deepening your relationship with clients and prospects is central to becoming a true business adviser – and being able to offer funding advice helps to accelerate this process.
"With Capitalise, there's a very useful funding report that we run. That's something we couldn't do in the past to that level of speed and detail. We can sit down with a client, show them the funding alternatives, show them what's possible and add some real value."
"Having that tangible report shows you've made an effort, thought about their funding need and produced something for them. So, whether they decide to go ahead or not, it's helped to enhance the relationship with a particular client."
A scalable way to access business finance
Having Capitalise as a funding solution has helped Alan and the Woods Squared team to strengthen their client relationships, while also scaling up the amount of funding advice that the firm can offer to their business clients. He explains:
"With Capitalise, I can still give guidance and liaise with the client. However, the actual gathering and submission of the required information, and the communication with the client, is all dealt with by the person in our team who looks after that particular business client."
"That scalability and being able to delegate the funding work to all the people in our team, has been a big benefits for us as a business."
Find out more about funding and forecasting
If you'd like to add flexible funding searches to your advisory toolbox, Capitalise is here to help. We'll help you fast-forward to the future of adviser-led funding.
What to see more about what the platform can do for your firm? Book a demo today.